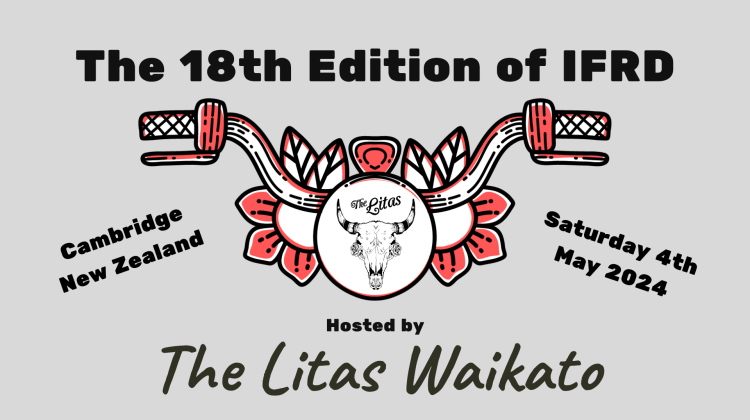 Event outline:
This year our women's only motorcycle group, The Litas Waikato have put our hands up to host next year's International Female Ride Day® for New Zealand. We will welcome a group of around 200 women motorcyclists to the town of Cambridge for a whole weekend, from all over the country.

International Female Ride Day® (IFRD) is celebrated annually worldwide on the first Saturday of May. The day celebrates women motorcycle riders and is not country, group or organisationally specific – it is a globally synchronised "JUST RIDE!"© day, for women. Vicki Gray created IFRD for all women individually, in groups and collectively – everywhere!
Women make International Female Ride Day® their day to "JUST RIDE!"© doing what they can to promote and highlight women riders while making a positive difference for women in motorcycling and powersports everywhere.
Every woman riding on IFRD is a role model for the diverse, unique and common passion women share for motorcycling and powersports.
The day has occurred for well over a decade and a half, with the first IFRD actions in 2007. It is an all brands and all styles motorcycling happening, and extends across all borders and cultures the world over.
Marked annually on the first Saturday in May, International Female Ride Day (IFRD) is one of the most important ride days of the year to:

Highlight the number of women who ride;
Encourage other women to take up the activity;
Raise awareness about women's equality in motorsports;
Celebrate women's advancements in motorsports and powersports;
Ride for accelerated gender parity.

What Is International Female Ride Day®?

International Female Ride Day® (IFRD) occurring on the first Saturday in May, is a global day celebrating the cultural, social and active lifestyles of women who ride and enjoy motorcycling and powersports.
The day also marks a call to action for fast-tracking gender equality, awareness, and respect for women in motorcycling or motorsport.
IFRD is created and owned by Vicki Gray. It is exclusively driven by Gray through her business platform MOTORESS®, the woman rider and motorcycle enthusiast online magazine and resource. Gray is an avid motorcyclist currently residing in Canada where MOTORESS® relocated to from Amsterdam, The Netherlands.
IFRD is all about riding in celebration, unity, and support – whatever that looks like globally at a local level. But one thing is for sure, IFRD has been occurring for nearly two decades and continues to grow in strength and power, from ride to ride.
IFRD promotes all women (those who identify as a woman) in motorcycling and encourages other women to take up the activity. The numbers of women motorcycle riders steadily increases, and certainly more so in recent decades (women's social values have changed, advanced, etc.) with the prominence of the IFRD occurrence. IFRD underlines this growth and the numbers.